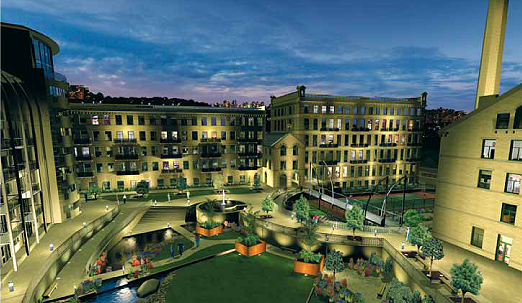 Victoria Mills, unique apartment living and envious lifestyle choice. This village setting offers a mix of magnificent Victorian conversions with stylish modern architecture.
Located in the beautiful Shipley Glen, and within walking distance to Saltaire World Heritage Site, Victoria Mills is a 5.5 acre enclosed village where residents have security and amenities on their doorstep.
The stunning canal and riverside location creates a peaceful rural location, however the local train link into Leeds takes a mere 12 minutes.
Bradford District Design Awards for Architecture 2008
Last night at the Bradford District Design Awards for Architecture 2008 Newmason Properties, together with our architects Beckwith Design Associate, were the only development picked for a commendation in the Residential Conversion and New Build Category. This award is given by the Bradford District Design award panel of judges for a valuable contribution to the quality and appearance of the environment.
RICS Pro Yorkshire Awards - 23 May 2008
At the RICS Pro Yorkshire Awards held at Leeds Town Hall on Friday 23 May 2008 Victoria Mills won the coveted Residential Award in the 2008 Royal Institution of Chartered Surveyors (RICS). The Chairman of the judges said that "the diversity and quality of the shortlisted projects in the residential category was very impressive and it was very difficult to judge a winner but the Victoria Mills development stood out from the crowd and thoroughly deserves this recognition"
Yorkshire Post Property Awards - 30 November 2007
At Friday's glittering Yorkshire Post Property award ceremony to honour the outstanding performance of the region's property industry Newmason Properties for Victoria Mills, Shipley won the category for Best City Centre or Apartment Development in Yorkshire. The award was presented by Linda Barker to Alec Newsham and Andrew Mason. The awards did not stop there as Victoria Mills was also shortlisted for the Best Regeneration of an Existing Building. Both Alec and Andrew were extremely proud to receive the award as it reflects the efforts of all those who have helped transform Yorkshire over the past few years.